Alberta Premier Jason Kenney capped off an over 40-hour gay bashing session that saw the passage of Bill 8 to out gay kids by jetting off to Calgary to take part in his first Straight Pride festivities as Premier with Federal Conservative Leader Andrew Scheer.
"Moo moo, buckaroos," said the Premier in a statement, pictured below with Scheer and another member of their Village People tribute/cosplay group.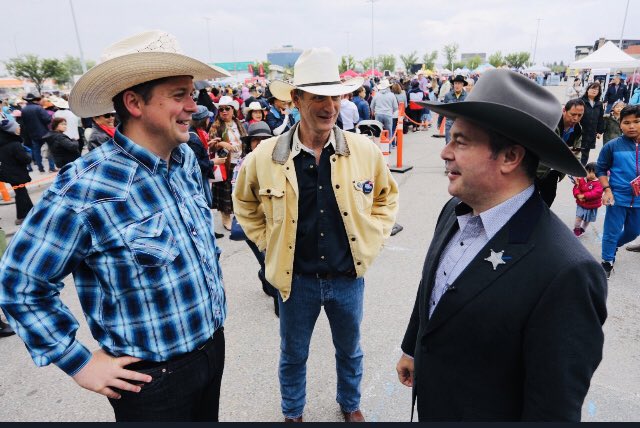 We caught up with the Premier who was checking out the bears in the hunting and wildlife booth.
When asked what he was looking most forward to in the week-long celebration Kenney said he was hoping to check out the barebacking competition, with a sly wink to those in the know, as well as playing some real-life cowboys and Indians in the new Elbow River Camp.
---
Please don't forget to share and comment on this column.
You can follow me on Facebook, Twitter, and subscribe to the Political RnD Podcast on Google Play, Apple Podcasts, or wherever you get your podcasts. 

If you wish to support my work by making a one-time or recurring donation you can do so here.